Northwest Koi and Goldfish Club 2019 Grant Article
This year Children's Day at the Japanese Garden was on Sunday May 5th and we could not have asked for a more beautiful day to enjoy the children, the gardens and the koi! The club members had lots of fun helping the children fold koi origami and feed the beautiful koi gracefully swimming in the main pond. Joel Rutledge, who for many years has helped with this event, was fantastic at teaching the children how to fold the origami koi. He had a couple of new assistants this year, Virginia Hokkanen and Leora Gregory, who were so wonderful to help him out at the very last minute, which helped to make the day so enjoyable for the children. Robert Wilson and Jay Avery had lots of questions to answer from the inquisitive little minds and lots of little hands to fill with koi food. This is the only day of the year that the children can feed the koi and they so enjoy and look forward to it! The club also had lots of informative pamphlets on the koi that were specially written for the children that they handed out to further educate these future little koi keepers! Everyone who attended really enjoyed the event and I so appreciate and want to thank the club members that helped and called to ask if we had enough help for the day. I would like to thank Joel Rutledge and Robert Wilson, who have been helping me for many years with Children's Day, and Jay and Leora Avery and Virginia Hokkanen, who were lifesavers and dropped everything at the last minute to help to make the event a success!

Robert Wilson helping children to feed the koi
Leonra Avery (Above) and Virginia and Joel teaching the children the art of folding koi arigami (Below)
Submitted by Linda Montgomery
Northwest Koi and Goldfish Club


Idaho Water Garden & Koi Society
September 2, 2019 brought the Idaho Water Garden and Koi Society; the day after our Koi Show, Labor Day AND Japan Day at the Basque Block in downtown Boise. Members of the club rounded up some Koi and transported them to a tank at our booth at Japan Day. Members of the club shared the joy of pond building and the culture of koi keeping with over 700 people who came to the Basque Block to enjoy vendor booths, food, crafts and of course our Koi. As you can see, the koi draw the rapt attention of the younger set.

Washington Koi & Water Garden Society
Volunteers Kim Anderson, Helena Hileman, Lucy Macneil, Catherine Knowlson, and Nancy Moore staffed our Koi Club table at the May Kid's Day celebration at Seattle Arboretum's Japanese Garden on May 11th, 2019. The weather was perfect, our koi sock (made by Barb Sundgren) was flying in the breeze, and many kids and their parents were intrigued by our traveling mechanical koi, Elektra. A good many small ones looked at the Koi Varieties ID chart and identified Elektra as a kohaku. We invited everyone to come to Sky Nursery in September to see "really big fish." They also oohed and ahhed at our koi ID chart, took postcards of our upcoming koi show in September, and asked a lot of questions.

As you might imagine, "how old do they get?", "what do they eat?" and "where do you get koi?" were common. We were right next to the area where kids made little koi kites so we were in a good position for show and tell. Another draw for Kids' Day is that the Garden staff made free food (albeit small portions) available for kids to feed the real koi between 11 and 1.

Staffers rotated so every person could take a quick look at the fantastic flowers, wind socks, koi, and pond itself. This is the second year we've been asked to help with this annual event and we are ready for 2020!


Oregon Koi and Water Garden Society
The Oregon Koi & Water Garden Society event for this years PNKCA grant was another membership drive and plant sale.

This was our fourth year renting a booth at the Douglas County Master Gardeners Plant Expo. We were giving
an amazing corner spot with plenty of extra space for club members to sit and visit. Our club booth was full of
beautiful water plants, shubunkins, and we were even able to give 15 gold fish a great home. The Master Gardeners is a one day event, full of venders and people looking for deals on plants and info. Norman Call and Jim Daniels went around looking for venders to be at our upcoming koi expo at Sherms. Everyone had fun talking to the public and sharing info on ponds and koi. Thanks to the PNKCA grant and the many members that were there to help set up and tear down the booth.

Thanks Randy and Kimberley Brock
OK&WS (PNKCA Reps)


Inland Empire Water Garden and Koi Society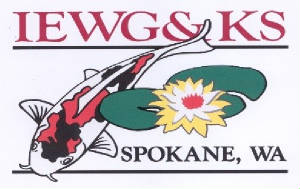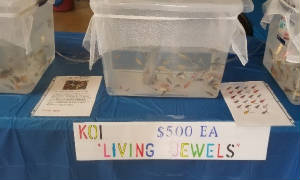 How would your club like to be exposed to over 20,000 people in one day? Every year we have a booth at the annual event "Garden Expo". There are over 300 booths each year.

This year the even was held on May 11th, 2019. It is always held on the 2nd Saturday in May if you ever want to plan on attending. It is free except you will want to spend money there for sure.

We did something a little different this year. Normally we have water plants at the booth for sale. However, it is labor-intensive so we decided to focus on the people more and helping with their questions. We did have water hyacinths for sale at the booth and information on water plants on colorful posters and cards where people could order the plants. People who joined the club also got a discount for the plants.

We also had baby koi (Cindy and Jim Silliman donated the baby koi). They were pretty small (1.5" of so) but we did sell a lot of baby koi and answered so many questions on koi keeping.

More importantly we were able to answer so many questions people had about the water plants - what type to have, where to plant them (bog or pond), lilies, their pond maintenance, and koi keeping. It was relaxing and much less stressful than trying to answer those questions and bag up water plants. We love to answer questions.

However, John and Linda Seifert were the front runners in answering questions for sure. Every member was able to answer questions. The wealth of knowledge that our club members have is amazing. We had a brochure which answered many basic questions with our club website for reaching out to our club for any other questions they may have.

Our club really enjoyed this year's Garden Expo and look forward to having this type of format for the next year