Oregon Koi & Watergarden Society's 4th Annual Koi Show
by Norman Call
The Oregon Koi & Watergarden Society's fourth annual Koi show June 19th & 20th was it's first open show. There was a Junior division this year that proved to be very competitive. It is nice to see the younger members get involved. The OK&WS is defiantly a family oriented social club.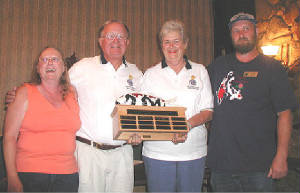 Bob & Joan Finnegan present Grand Champion trophy to Albert & Nancy Mason
Due to the limited number of participants and the lack of funds typical of a young club there were no koi categories. The fish were entered in four size categories instead. There were three divisions: Nishikigoi, Junior division and longfin Koi division. We had a total of forty two fish entered. There were many special awards. I'd like to point out that the beautiful trophies were donated to our club by Morris and Jeannie Bush from Vancouver, WA. We are very, very grateful. Thank you so much.
There is something special about a small town koi show. There was an almost carnival atmosphere that appeals to the young and old alike. There was a friendly raffle selling competition between Albert Mason and Brittney Brock. People getting involved, showing koi for the first time and having out-of-towners attend the show and banquet was special indeed.
Peter Enfield receives Appreciation award
We were honored to have Mike Winters from Wintergreen Nursery give a bonsai demonstration. There were a total of seven dealers/merchants participating. I urge you to help support these dealers/merchants who have helped support our show when ever possible.

Patti Magee and Steve Kaufman came down from Vancouver and set up shop. Sue Boydstun from the Idaho Water Garden and Koi Society drove all the way from Boise. The previous weekend was the PNKCA convention, so I know she was looking for an escape.

Sir Jerry Tyler drove down from Lake Bay Washington. Bought a kohaku from Rod and entered the show at the last minute. One can not say no to someone that has been knighted. Sir Tyler won Best Baby.

A special big thank you goes out to Bob and Joan Finnegan for taking the time and expense to fly up for our very un-traditional koi show. As soon as they got back to So. California they left for the AKCA Seminar in Hawaii. Busy people! Thanks for judging our show. We hope to have you back again when you have more time to see the sights.
Not to brag too much, but it seems the most popular koi in the show was my 24" Kujaku. This Kujaku won ALL the "Choice" awards. Peoples Choice, Members Choice and the Presidents Choice. The judges were impressed also and gave it 1st Place in the 16" and over category. Along side the show tank was it's picture taken two years previous showing snow white where the gray is now.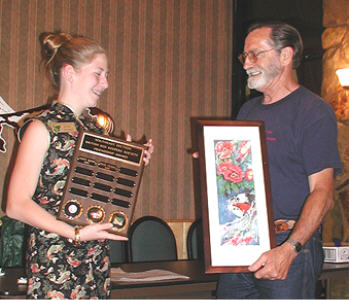 Norman Call presents friendship award to Heidi Tschan
Our sister club, the Southeast Section of England sponsors a friendship award every year. The SE Section award this year went to Heidi Tschan, age 12 for her 20" Sanke. It was a pleasure to make this presentation to one of our own and a very energetic young member. Along with the traveling award which will forever bear her name, Heidi also received an original watercolor by By Patti Magee. Congratulations Heidi.

Thank you Kim for arranging the Tom Tom Restaurant for our banquet.
The banquet at the TOM TOM Restaurant was full! It was a lot of fun, and we had a great time. Thank you Kim!
WINNERS LIST 2004: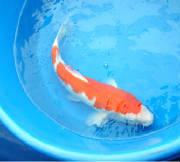 Grand Champion - Albert & Nancy Mason - 18" Nidan Kohaku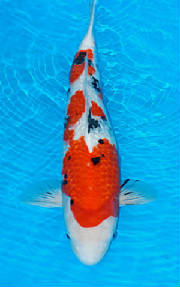 Reserve Champion - Dan & Elsie Browning - 24" Gin Rin Sanke
16" & Over
1st Place - Norman Call - Kujaku
2nd Place - Norman Call - Doitsu Showa


12" to 16"
1st Place - Jerry Tyler - Kohaku
2nd Place - Elsie Browning - Sanke
3rd Place - Nancy Mason - Kujaku

10" to 12"
1st Place - Elsie Browning - Showa
2nd Place - Edna Brock - Yamabuki
3rd Place - Kim Brock - Sorigoi

6" to 10"
1st Place - Norman Call - Gin Rin Ochiba 2nd Place - Edna Brock - Hi Utsuri
3rd Place - Heidi Tschan - Showa
Jr Division
Jr. Grand Champion - Brandon Brock - Kohaku
Jr. Reserve Champion - Sarah Brock - Orenji Ogon

1st Place - Heidi Tschan - Sanke
2nd Place - Brittney Brock - Sanke
3rd Place - Christina Mason - Hi Utsuri
Long Fin Division
16" & Over
1st - Johanna Shaffer - Orenji Doitsu
2nd - Johanna Shaffer - Black Doitsu
3rd - Edna Brock - Sanke
12" to 16" - 1st Kim Brock- Doitsu Sanke

10" to 12" - 1st Pat Wilson -Yamabuki Ogon
Friendship & Special Awards
Best Baby - Jerry Tyler - Kohaku
ZNA - Edna Brock - Gin Rin Yamabuki
So Cal. - Elsie Browning - Sanke
AKCA Koi - Dan & Elsie - Kohaku
PNKCA Tategoi Koi - Norman Call - Sanke
Sister City/ Southeast of England Section, BKKS - Heidi Tschan - Sanke
IEWG&KS - Pat Wilson - Kin Matsuba
PSKC - Elsie Browning - Kohaku
Magoi - Kim Brock - Sorigoi
President Choice, Members Choice, Peoples Choice - Norman Call - Kujaku